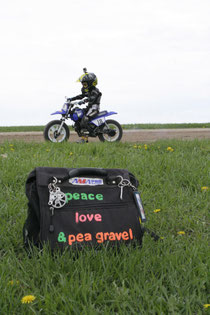 It had been over 20 years since the bikes had roared down the straight of this rural fairgrounds half mile. Back then, fans paid about $1.05 for a gallon of gas, and they could rock out to Pearl Jam's latest on the radio (provided the station wasn't featuring the latest on Hurricane Andrew or the Rodney King Riots). Billy Ray Cyrus had a daughter born, that year... they named her "Miley."
 The old track had, like MANY tracks of our history, had faded into the overgrowth... but NOT from the memories of the racers and fans, Now,a new track had actually been graded out and several loads of limestone had been brought in. It had rained over the days prior to this event,  but this promised to be a cool, often-cloudy, but rain-free, day.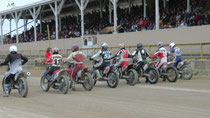 We pulled into the fairgrounds early in the day. So did the fans. I was amazed to see the stands nearly-full, well before the first practice lap began.By the time the heats started, there wasn't a seat left. Pick-ups and vans were backed up to the fence, and fans sprinkled the row around turns one and two.
  You could tell that some of the riders that showed up were new to the deep cushion half miles (or, perhaps, it had been so long that they weren't expecting what they saw). In the pits, prerace, riders and crews coated their bikeswith PAM spray and/or duct tape... put coverings over various components (some were products especially made for keeping dust out of the part...others were pretty inventive).
  Meanwhile, in another pit, you would see a person in motocross gear, watching them in bemused wilder.
  After the heat races, I think they understood.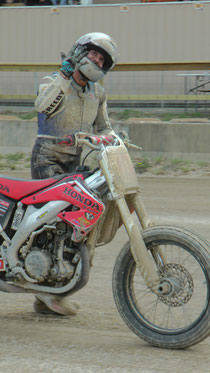 Smiles were all over the place. I couldn't believe how upbeat and good-humored everyone seemed to be...even when things didn't work out according to their plans!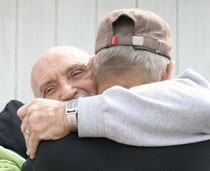 The return of the race, here, brought out some folks who hadn't been to a race in ages, themselves. It was awesome to see how time apart does NOTHING to damage the brotherhoods formed within The Sport.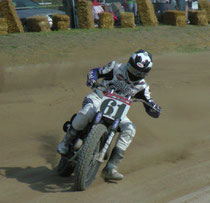 Of course, the racing action was great to watch, too.:)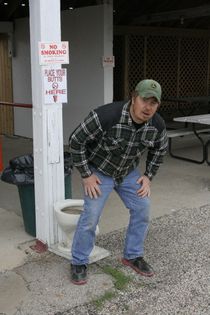 While I love the unique little features that each fairgrounds event has, I find myself having to keep a much closer eye on Chew. He tends to get in trouble, if I don't.