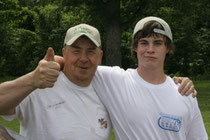 While we had initially hoped to be at the Peoria Speedway on Friday night, and at the D-17 races at the Springfield TT on Saturday afternoon, our plans had a twist... the Youngest Chewable had taken a class trip to Gettysburg and Washington DC, and their bus hadn't gotten in until late on Friday night. 
  Still, we had a good trip, heading West, and got to the track in plenty of time to catch ALL of the action of the All Star Springfield TT races.
  When we pulled into the campgrounds, we were greeted by Willie McCoy. We were thrilled to see Willie looking so good after his recent racing injuries. The smile he wore was totally contagious... just the right thing to put three weary road travellers into the mood for a great evening of racing!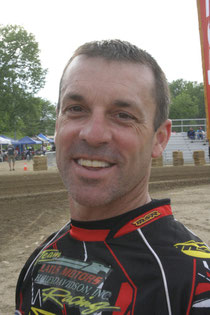 We love the Nace All Star races for many reasons. For one, it gives us the chance to see some of our favorite folks going fast. For another, there are always plenty of today's stars onhand, to make each event into a mini National. Third, we've discovered plenty of tomorrow's stars at these events. Fourth, Nace's races have a tendency to draw out some of our legends, and get them strapping on their steel shoes, again. Among the smiling faces we saw, putting on their helmets, were Garth Brow and Joe Kopp!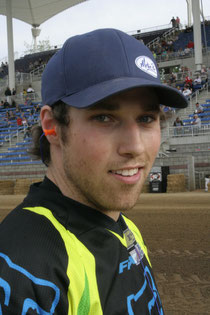 I can't tell you how happy we were to see THIS guy back on American soil! Canadian flat tracker Mikey LaBelle took some time off, and chose to make his return to the states this weekend. We love this guy (affectionately referred to as "the Mayor" due to his charismatic charm and outstanding displays of sportsmanship). Mikey wasn't expecting to do as well as he did (he isn't very comfortable on TT courses). The fact that he made it into the Main and secured a 12th-place spot had him as excited as he would have been if he had podiumed in a National. You've got to love that enthusiasm!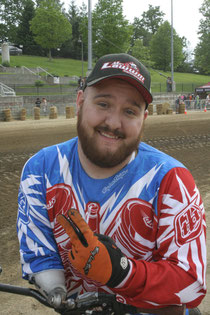 Another fellow I was excited to see (after far too long) was our good friend, Jake McCullough. Jake has been working on a pretty spectacular project, which has us SUPER excited. I'm not at liberty to say much, as I don't have many details, but I CAN say that I am VERY eager for this guy's press release!
  Jake was first introduced to us, several years ago, through Mert Lawwill. Mert designs the prosthetic arm hookup that allows Jake to follow his dreams within the Motorsports community. The fact that he was born without a right arm doesn't hinder that pursuit, ONE BIT.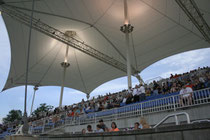 While the stands were far from overflowing, we were happy to see the turnout... a nice crowd, considering that it was a non-National event... and even more fans sat on the hills or lined the bridge and fences.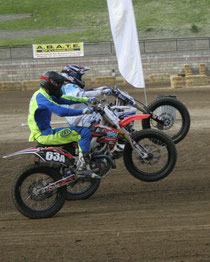 Not that the riders were eager to try out the beautifully-redesigned IMDA TT, or anything, but we were treated to a wheelie contest by almost an entire class, during practice!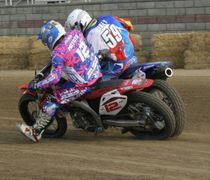 We fans were treated to an action-packed, edge-of-the-seat or on-your-feet evening of close racing...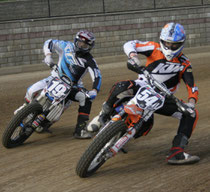 Battles through the turns...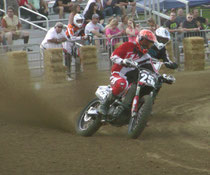 Cover-your-cup blasts, from the roostertail blasts...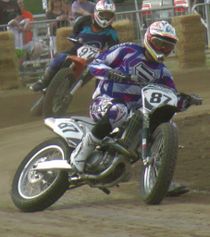 Great racing, in every class...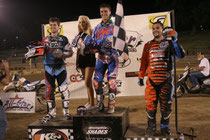 And lots of smiles, from the podium, to outshine our flashbulbs!
  On an adrenaline rush, we headed back to the campsite to type the day's results and to do a little late-night benchracing. Then, we tossed a blanket on the ground and prepared for a brief night's sleep beneath the Springfield stars.