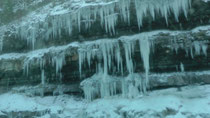 Days 1-3: Road Trip (The Journey is Half the Adventure)

 We left on Wednesday evening, right after Chew got off of work. We drove to the Ohio/West Virginia border, and got a room for the night. After getting up at 4:30 am, working all day, and driving for a few hours through the traffic and road construction, Chew was ready for a good nights sleep, and an early departure.
  When the sun came up, we were back on the road. We eagerly watched out the windows for signs that we were approaching warmer climates, but there were none. A powder of snow coated the ground, through West Virginia and Virginia. Even when we entered North Carolina, there were icicles hanging from the carved-out mountains. 
  As we entered North Carolina, the quick-moving traffic slowed to a near standstill. It was rush hour, and someone had decided that this would be a great time to transport a modular home. After several hundred miles, imitating the old "Red Light, Green Light" game of our childhood days, we decided to pull off and find another room, for the night. Thursday's practice night had been cancelled, due to rain, and we could make it to the track for round one on Friday. Yes, we'd be a bit late, but we would arrive with at least one nerve intact, apiece.
  We pulled off, grabbed a quick lunch, and checked the internet for nearby motels. That's when we learned that there was a nasty ice storm headed into North Carolina. We did NOT want to get caught in that... we figured we'd be better off, taking our chances with the traffic jam and house-movers.
  As evening set in, we pulled into South Carolina. Checking the radar, we saw that we were well beneath the anticipated ice storm. Good thing, too, because it was raining... HARD.
  It rained all night, without ceasing. In the early morning, the water in the parking lot sloshed over the top of my ankle-high hiking boots, drenching my socks. I told Chew that it couldn't POSSIBLY rain, much more. Farmboy that he is, I could tell that he knew better. The rain accompanied us, all the way into Georgia. We learned, en route, that Day one had been cancelled and that they would be running a doubleheader on Saturday.
  At the motel there was a virtual rider's meeting, in the lobby. Lots of faces... many of whom we hadn't seen since Springfield... greeted us with smiles and friendly greetings. We grabbed dinner, visited a bit, then headed to our room to recharge our batteries...and our equipment.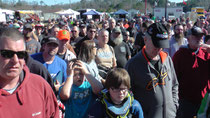 Day 4: Savannah (Red Clay and Racing, Galore!)
  What better way to kick off a race season, than a doubleheader on my favorite clay half mile... Oglethorpe Speedway?
  502 entries were on the list... a new record for the Steve Nace Racing Promotions crew! As I looked at the sea of riders at the morning rider's meeting, I was both excited and nervous. Would they get them all in? 
  It was a long day. I won't lie. My feet and back were aching when we finished the last main, just after midnight. However, the adrenaine was pumping, and I was as happy as a kid on Christmas morning. We'd seen some AWESOME action, and we couldn't WAIT to see more!
  It was almost 5:00 in the morning when I finished uploading pictures and typing up the results for the Amateur/Vintage Races and the All Star Races.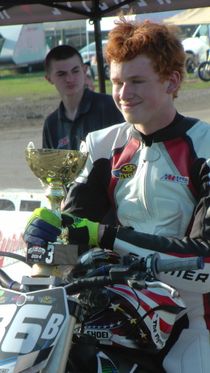 Day 5: Volusia Half Mile (All Star Action)
  We made the trek down to Volusia, and were finally greeted by the brilliant sunshine and warm weather we had been anticipating.
  Some of our favorite young guns... Jarod Vanderkooi, Chaz Meiman (who had given me a lovely shell from his trek to the beach), Drew Hart, and Jeremiah Duffy, for instance... had to head home after this event (or the previous one). We knew we'd miss seeing them, the next day. Still, the All Star event had a wonderful turnout, and there were plenty of close races all day. The track looked better than we had EVER seen it... all of the riders we spoke to expressed the same sentiment. 
  After visiting a bit, Chew and Tia climbed in the van for some shut eye, while I posted results and the day's pictures.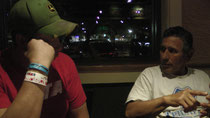 Day 6: Volusia Half Mile (Half Mile Hole Shot)
  What a rollercoaster of a day.
  The track was beautiful... the racing was great... smiling faces were everywhere. It looked ike it was going to be another perfect day!
  Then, as the day wound down, tragedy struck. An accident occurred, just out of turn 2, leaving one of our Young Guns in bad shape. Initially, we all thought the worst. I saw the young mans parents, as paramedics tended to their son, and felt my heart shatter.
  Later, we received a blessing of the highest form... the rider WAS still with us. While his recovery may be tumultuous and the road to healing may be long, 12-year old Gage Beland has astounded the racing community with his continued positive steps towards health. Until further notice, we will be reserving our news page for updates, as well as links to fundraisers and benefits to assist the Beland family.
  With this news, our hearts were lifted.
  We stayed, after the races, to watch Shayna Texter and Joe Kopp testing the Triumphs. Afterwards, we went to dinner with our dear friend, Dave Aldana. His great stories and bright wit gave us what we needed to start looking forward to the next day.
  We returned to the Volusia track, posted our pictures and the day's results, and climbed into the van for another night's sleep.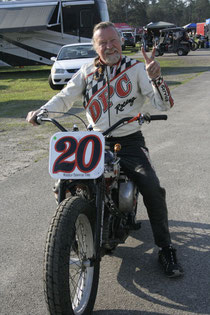 Day 7: Volusia Short Track (Short-Track Showtime)
  The haulers rolled through the heavy Florida fog, even before the sun came up. It was a great day of racing, with lots of close battling. We took a brief lunch break to join Genn Stutz, his dad, and Dave Aldana for our annual cookout. After good food and great benchracing, it was back to the track for the day's Mains. 
  After posting pictures and results (quickly), we raced back up for the Awards Ceremony. There were lots of laughs, cheers, and "smack-talking," as the highest-scoring riders of the week collected their plaques.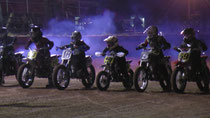 Day 8: Ocala (Cellphone Chaos, Missed Memorials, and Awesome Action)
  In the morning, we headed into Silver Springs in hopes of getting a room for the next couple of days. As great as Chew's sleeping platform was, sharing a minivan with 11 days worth of luggage just wasn't granting us the rest we needed. We had promised Chews mom and our oldest daughter that we would give them a call, to exchange news on how each of us were doing.
  As we drove to the motel, I opened the cellphone... and it fell apart. Thinking quickly, Chew pulled into a store along the road and bought a phone with an activation card. 
  Long story short, Tracphone had sold us a phone (and activation card) with a "bad SIM." We had to buy ANOTHER phone and card, from ANOTHER company, and activate it. By the time we were done with this hassle, and made our two calls, it was too late to go to the Memorial.
  We were furious. This was the first time we had missed the annual gathering at the Daytona 200 Memorial.
  We resolved ourselves to getting ready to head over to the SDTA race at Ocala.
  What a nice time, we had, there! Beautiful track, friendly folks, and great racing, all evening! Stacey Markel-Kelly (daughter of the late Bart Markel) was there, with a special gift... an autographed copy of her dad's biography, several vintage patches, and one of the bandanas sold to raise funds for Bart when his garage burned... all wrapped in fabric from one of his racing shirts! Talk about turning a day around, 180 degrees... once again, the race family proved it possible!
  I uploaded pics on the way back to the motel, and was able to turn in at the early hour of 3:00 am.
  Tomorrow, it would be time to start the Nationals!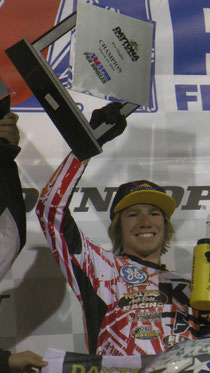 Day 9: Daytona, FL (GNC Round #1):
  We started out the morning with a trip over to the office, to pick up our credentials. Afterwards, it was off to the racetrack!
  How do you describe the first National of a season? In the Pro Singles Class, we were elated to see Ryan Wells, Justin Jones, and Brandon Wilhelm take the first podium of the season. While there are many young men and women that we cheer for, each of these young men had that added background story that made their triumph even more rewarding. For Ryan, it was his first Pro National win... and his first run with the Waters/KTM crew! Not only that... in 2013, Ryan had missed the Pro Championship by only ONE point, losing it to Wyatt Maguire. The wildest part was, Ryan had done that without a single 2013 victory. Now, in the first race of 2014, he took a win. It makes you wonder what the rest of the season will hold for him and the Dave Waters/KTM crew?
  Justin Jones is a young man who stole our hearts while he was still an amateur. We cheered, last year, when he made the Main during his very first Pro National event. We cheered even LOUDER when he took third on the podium, at his SECOND event. Now, here he was on the podium, again. The biggest reason this tugged at our hearts is because Justin had announced, recently, that he would not be able to race during the 2014 season, due to personal problems. Through his determination, and the support of many of those who ALSO believe in him, Justin was able to race... and take a proud second place position on the podium.
  The third spotlight was on Brandon Wilhelm. The Wilhelms are a fantastic family, and Chew calls Brandon his "red-headed stepson." In 2012, Brandon took 5th at Daytona. Last year, even after snagging his foot between his rear tire and fender, he walked away with a respectable 4th. To secure a third, and finally reach his first GNC Pro podium, was a true victory for this Indiana speedway-raised guy.
  The Expert Singles event brought Briar Bauman HIS first Expert Podium win. I don't think that a sandblaster loaded with the Daytona track grit could have buffed the enthusiasm off of that contagious "boy-next-door" grin of his! Sammy Halbert, who missed several races last season due to various bouts of injury and periods of recovery, took a respectable second, even after decrying the track's condition on the podium earlier in the evening. Rounding up the top three was another of our favorite guys, Brandon Robinson. Brandon had finished third in the overall points standings last year, after a most impressive season. It was good to see him starting out THIS season on the right...er....LEFT foot, too.
Day 10: Daytona, FL (GNC Round 2):
  By now, we had been chasing the races for our 10th day in a row. I had been averaging a 4:00 am bedtime each night, and we'd been getting up at sunrise. Three nights had been spent, sleeping in the midst of a 2-week supply of luggage and gear. Were we worn out?
  HECK, no... we were just getting started!
  It was hard for us to believe that our week was ending, already. The adrenaline was pumping... not only ours, but everyone we spoke to.
  The night brought another great lineup, on both podiums. In the Pro Class, Brandon Wilhelm returned to claim his first GNC Pro win! Davis Fisher, a young man who had WOW-ed us throughout the week, took a smashing second on the TJ Burnett Farms Honda. Rounding out the podium in third was our beloved Justin Jones, with HIS second podium in two days!
  The Expert Class brought Kenny Coolbeth (Zanotti Racing) HIS first Daytona victory. The first person waiting to hug him, at the podium, was second-place spot holder, Jake Johnson (Lloyd Bros). Another Zanotti Racing-sponsored rider, Stevie Bonsey, secured the third spot on the podium.
  I don't think I've ever seen so many joyful faces on the podium in one evening.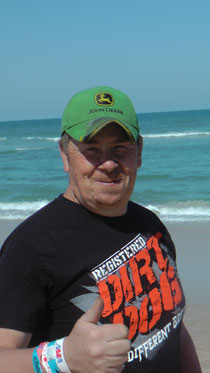 Day 11: Daytona, FL (Foiled Plans and Other Hidden Blessings):
  We had planned to head out early, in the day... spend an hour or two at the beach... then head North to Tarheel, NC, for one more race on the way home.
  Other plans were made for us, when a tire that Chew suspected as being weak hit something, and blew. All we had as a spare was a doughnut. Our phone calls brought even worse news... it seemed impossible to find a tire for less than $150 (not counting mounting). Finally, we found a place near us that said they could put on a new tire for less than $90. This would leave us enough gas money to get home, but only BARELY. Fortunately for us, there are angels among the flat track family. One of them (thanks, Erin!) called the shop and picked up the tab for us. I can't tell you how much that was appreciated!!!
  As I sat in front of the shop, something caught my eye... Loquat trees! I picked a few of the ripe, sweet fruits, and Tia and I munched on them as we waited for the mechanic to give us the go-ahead.
  Afterwards, it was time for a quick trip to the beach. The water was FRIGID, but it didn't stop Tia from plunging in. Soon, however, the tide started rolling in, and we decided to head back to the motel for one more night before the long drive home.